GIMI coaches are experts in various areas and industries, read below to get to know one of our coaches: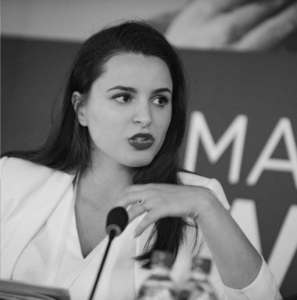 Erila Haska is the director of partnership for Global Innovation Management Institute and Innovation Consultant at IXL Center. She is managing a network of 24 Certified Training Partners and supporting them to grow markets on innovation management training and consultancy in their regions ranging across US, Latin America, Europe, Middle East, Asia. At the same time, she is working with most of the partners to build innovation culture and systems across Scandinavian, Northern America, LATAM companies. As part of the GIMI faculty, she has taught and mentored more than 50 professionals and companies on GIMI Level 1 and 2.
As part of IXL Center, she has been consulted 500 Fortune companies in pulp and paper, cosmetic, hospitality & tourism industry, as well more than 40 SMEs in the food and service industry. She has co-designed and delivered programs on social innovation to students (GIMI KIDS) and innovative leadership to 2000 business leaders in Brasil (Leaders of the Future), innovation potential assessment, service tool to do incremental innovation.
Before consultancy, she had 7 years of experience managing big project of European Union and other Embassies ranging from $100K to $3 million aiming to build an enabling environment for startups and SMEs. She has particular expertise in fundraising, project proposal drafting, grants management, and trainings related to business models, entrepreneurship & innovation. She was an adjunct professor for 6 years teaching Strategic Management and Decision Making. She is the co-author of one book and several research papers, reports on topics such as youth entrepreneurship, social entrepreneurship, social innovation, crowdfunding.
Erila holds two executive education programs on Negotiation and Leadership from Sandford Business School and MIT. She holds a bachelor in Business Administration and an MBA from University of Tirana. She has many certifications in research, social impact measurement, venture capital from Bocconi University, etc. She is certified on Innovation and Consulting.