GIMI coaches are experts in various areas and industries, read below to get to know one of our coaches: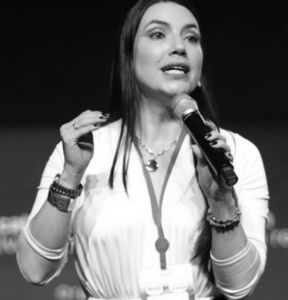 Carolina as an innovation consultant with IXL Center has helped corporations across the globe to identify the powerful strategy, processes, systems and tools to manage innovation effectively and to accelerate projects to deliver business results from the innovation efforts.
As part of her consulting experience, she led the project and work as a consultant to support one of the largest food companies in Colombia, Casa Luker, to develop internal systems and capabilities that allowed them to identify and accelerate out of the core innovations. She also led the project one of the largest pharmaceuticals globally, Sanofi, to pilot potential partners to improve the customer understanding and experience; she also led the project with one of the largest beauty companies in LATAM, Belcorp, to develop an actionable and compelling R&D&I strategy; and she also worked with one of the largest Oil and Gas companies in LATAM, Promigas, to develop a high-performance innovation system inside the company that allow them to reach their growth targets. 
She was also the leader of the program that supported one of the most important engineering universities in Colombia to develop the 10-years growth strategy and was part of the team that help one of the most recognized business school in Colombia to embed innovation and entrepreneurship in the curriculum. She also created innovation capabilities in more than 40 companies of different sizes and industries in Barcelona, Bogotá, Barranquilla, Cucuta and Cartagena.
As part of the faculty from the Global Innovation Management Institute, Carolina has delivered innovation trainings to more than 300 people in Latin-American, and she has also taught innovation best practices in several companies and entities across the globe.
Carolina is a professional in Finance and International Relations from Externado University of Colombia, has a Master degree in International Business at Hult International Business School in San Francisco, CA (USA), and a Master degree in Environmental Management from the University of Los Andes, Bogota Colombia.