GIMI coaches are experts in various areas and industries, read below to get to know one of our coaches: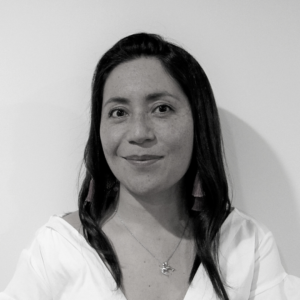 Alicia has more than 10 years of experience as an advisor to the Colombian government in the design and execution of one of the largest strategies that have been carried out in this country in terms of business innovation. Alicia led the design, execution, and scaling of the Business Innovation Systems program, enabling its deployment throughout the country, which has allowed thousands of companies to access world class methodologies to build innovation capabilities, get support to reduce the risk associated with innovation and has contributed to the development of an ecosystem in the country to drive innovation growth
Alicia has led team alignment processes at a national level across different organizations such as Chambers of Commerce, Governments, Consultants, Entrepreneurs, and other actors focusing on business and country innovation growth. The strategy has brought new jobs, investments, new human capital trained in innovation, new innovation initiatives, internationalization processes, among many other impacts for the country. Alicia has participated in multiple trainings in innovation and entrepreneurship, design and evaluation of public policy of Science, Technology and Innovation, in Singapore, Israel, Spain, Chile, Argentina, and others. Likewise, he has been a speaker for the private and public sector in countries such as Guatemala, Brazil, Peru and Colombia
She has been part of the consulting team of the IXL Center to help the companies of the Promigas conglomerate to accelerate growth through innovation, he has led the innovation audit process of the Global Innovation Management Institute – GIMI for UNAD, the largest university in Colombia and has been part of the consulting team to build innovation capabilities in the university. He is also part of the GIMI strategic team where she works on the expansion strategy of the Organizational Innovation Management Certification.
She is an Industrial Engineer and holds a MSc on Industrial Engineer from the Universidad Nacional de Colombia. She is certified in Entrepreneurship and Small Business by Certiport and on Innovation Management by GIMI